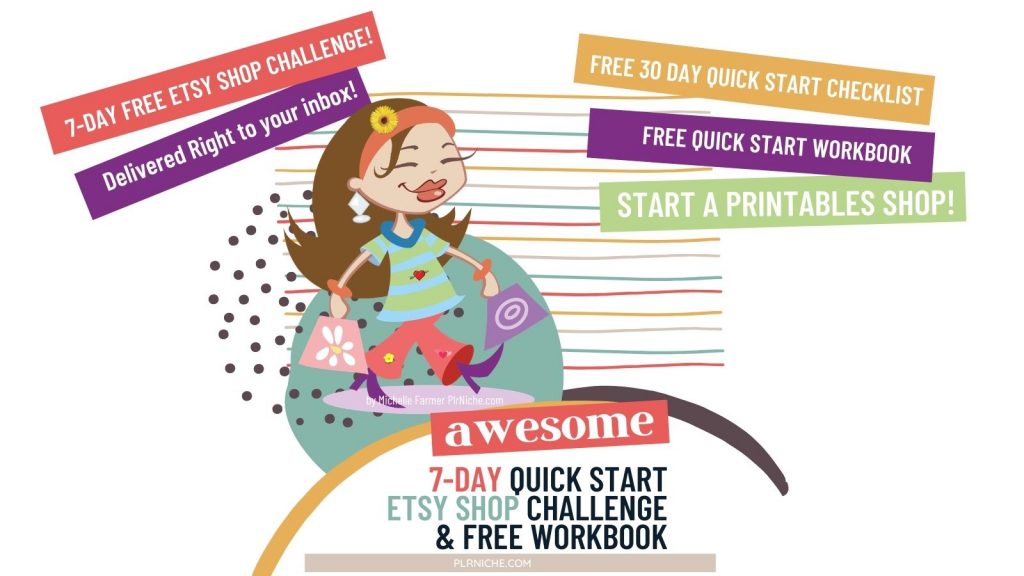 Welcome To Day 6 of the Etsy Shop Quick Start Challenge!
We're on Day 6 already! I'm really enjoying this challenge, it gets me fired up to start stocking up my shop again.
Today we'll go over how to promote our shop.
Everyone has their own favorite social media outlet. Some like Pinterest while others prefer Instagram, Facebook, or Twitter.
You do whatever makes you comfortable.
The choice is yours. I would advise you to stick with one social media and go in there and promote your shop each day. And skip doing any of the others for now.
We want to put all our extra time and effort into stocking our Etsy shop, not spend all day on social media.
Today will be short and sweet!
DAY 6 Promote Your Etsy Shop
Let's look at what you've done so far!
Day1 Set up Etsy Shop
Day 2 Research
Day 3 Create Product
Day 4 Canva Listing Pictures
Day 5 List Product On Etsy
DAY 6 Promote Your Etsy Shop!
The Goal For Today:
Promote your new item on one social media outlet

Add a second product to your shop today if you haven't already.
What you need for today:
Open one social media account in your shop's name.
DAY 6 Promoting Your Shop
What I normally do after listing a new item in my shop, is to promote it on social media.
I recommend that you stick with one social media outlet that you like using. It can be a full-time job, taking care of social media accounts. Pick one and post to it daily.
This will give you more traffic than trying to spread yourself too thin by posting to all of them.
If you don't have anything new to post about to your social media account, add something fun or inspirational. You can pick up Done-for-you PLR to help with that, to save time.
I like to use Twitter to send traffic to my eBay Shop.
And I've had luck in the past using Instagram for my handmade Etsy shop.
Pick a place that you like and hang out, like, share and comment on other shops that you find there. Follow them and the people they follow.
Use hashtags on Twitter and Instagram. You won't need them for Pinterest.
Here's a hashtag generator on eRank.
https://erank.com/hashtag-generator
That's it for today! I told you it would be a short challenge day.
Homework:
Open a Social media outlet of your choice. Be sure to add a link to the profile to your shop.

Promote one of your items there.

Add a second item in your shop if you haven't already.
Download Your Workbook at the link below.
DAY 6_7 Day Quick Start Etsy Shop Challenge
💖Tomorrow is the last day of the challenge!!
Wishing you much success!
Michelle
PS. Special Discount on my HOUSE CLEANING PLANNER TEMPLATE   I'm using in this challenge. Get 50% Off when you use the Coupon Code: CLEAN50