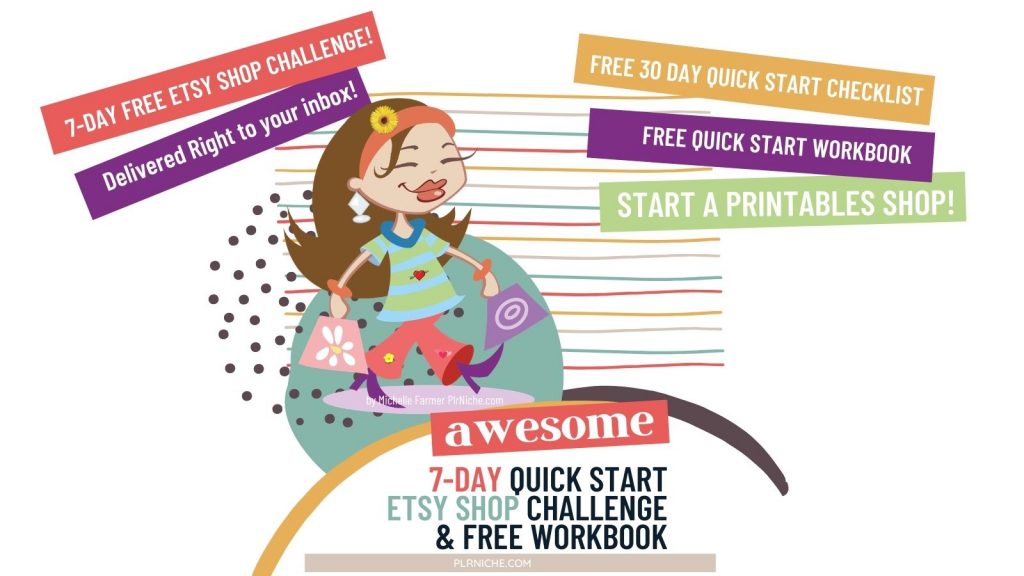 Welcome To Day 2 of the Etsy Shop Quick Start Challenge!
Let's look at what you've done so far!
DAY 1 You set up your Etsy shop if you haven't done that yet. Take today and go back over DAY 1 of this challenge. Then come back and work on Day 2 -Research.
You should be feeling really proud of yourself right now. You did it! You made it through Day 1! Setting Up Your Etsy Shop is the hardest part!
Now we can have some fun!
The Goal For Today:
RESEARCH! Gather up ideas and keywords for products.
What you need for today:
Your computer and some paper.
Today I'm going to talk about researching for printable products to add to your shop and keyword phrases to use in your listing headings.
When you do proper research, you'll soon find out what's trending in the marketplaces, which will help you know what to add to your shop.
Amazon is a great place to start looking for ideas for printable planners and journals to add to your shop. If you find a product selling well on Amazon, pay attention to the keyword phrases used to sell them. That will help with your own listing on Etsy.
I love the research part when creating my printables. I'm constantly gathering up ideas here and there. I have folders on my computer full of cool ideas I find and pictures on my phone of color combinations I like. And even more folders full of graphics I want to use. Good thing I have a big external drive to hold it all. 😉
I've always been like that, cutting up magazines and filling folders full of ideas, back in the day. Some things never change.
Research
Now I want to show you how I collect information that helps me decide what planner or printable I'll be making next, plus keyword phrases for my headings.
I made a scavenge hunt sheet in the workbook for jotting down ideas in your research. I told you it would be fun! You can download that part of the workbook below.
You'll want to keep notes on what you find. I keep these notes in a binder, and then I can use that sheet when I make my listing. Using the keyword phrases, I saw from those best sellers I found doing my research.
Let's start with the top three places I go to first to do my research.
Research Amazon
First, you're going to look on Amazon for the keyword of your choice. Any Printable that you are thinking of creating. See if there are any available for sale.
We will research the keywords "House Cleaning" as that's what I'm going to add to my shop this week.
Here are a few things to look for when researching.
Look at the comments, both the good and the bad.

Look for the ones that sold the most, with 4 or 5 stars.

What do you like about it?

How could you make one that would be better?

Keep notes of what you found.
The first thing I noticed one seller had several different cleaning planners. All of them with different covers and keyword phrases. They must be selling a lot of house cleaning planners! Add that to your notes.
Research Google
Now let's go over to Google. Start typing in your keyword phrase "house cleaning printable."
What do you see when you start typing?

What words come up first? Use those as possible keywords in your listing. Or even products to make.

Use those as a guide in finding the printable that you want to make.
I see "Printable House Cleaning Checklist" at the top of my list. So I'll be using that in my listing for sure. Keep looking here and gathering up ideas. Write them down in your workbook.
Now let's look at Etsy For Ideas.
Research Etsy
By now, you should have a good idea of what you're going to create. This week we're working on "House Cleaning" so we'll start there.
Type that into the search and add printables, checklists, and anything else you can think of.
Look to see what pops up first. Those are the best-selling ones. The first line of products is ads. So look at the second line of products.

What do you see? Keep tabs on shops that sell several printables that are the same but with different titles.

If they are selling, then you'll want to include those keywords in your titles.

Look at the colors of the printables.

What design did they pick? I see a lot of florals? That must be hot?
I like to note the printables that I like and the features I want to add to mine.
I've noticed something else. Many shops are selling the same planner only with different keywords. Talk about filling up your shop fast.
Homework:
Look on Amazon

for ideas and write down planners and printables that you would like to make.

Look on Google

for ideas, and write down any keywords that would pertain to your planner idea. Look at the images and see what stands out to you. Make notes of things you would like to change for your printables.

Look for ideas on Etsy

and write down keywords you find that you could use for your printables.

Make a list

of any keywords that you found today that would work for your next printable project.
Download Your Workbook at the link below.
DAY2_7 Day Quick Start Etsy Shop Challenge WORKBOOK
💖Tomorrow we'll be making printables for our shop!
Wishing you much success!
Michelle
P.S. Special Deal! I will be using my HOUSE CLEANING PLANNER TEMPLATE in the challenge, and if you would like to follow along and use the planner too. Here's a Discount Code for 50% Off that planner. Use Coupon Code at checkout: CLEAN50