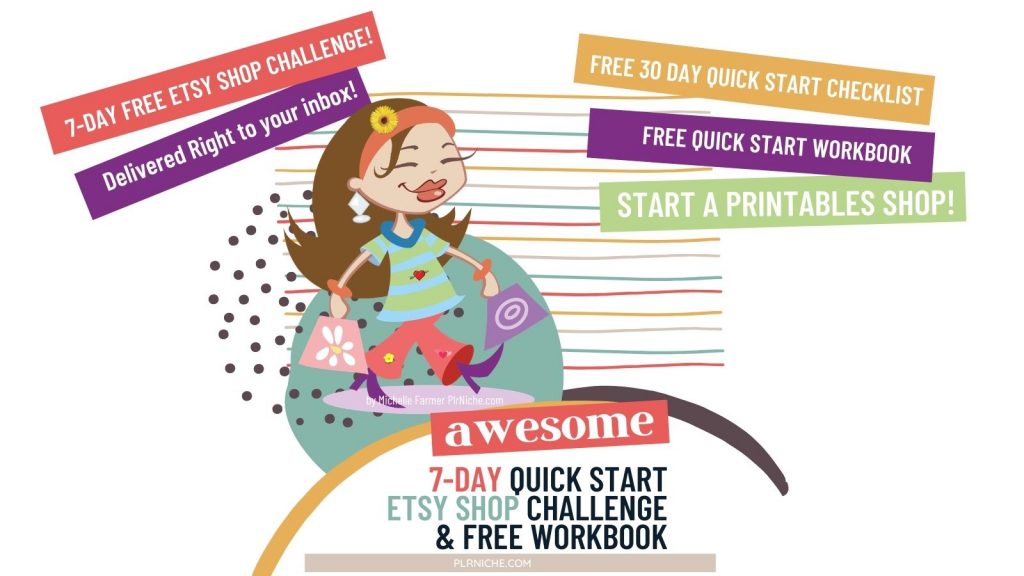 Welcome To Day 5 of the Etsy Shop Quick Start Challenge!
Let's look at what you've done so far!
Day1 Set up Etsy Shop
Day 2 Research
Day 3 Make Product
Day 4 Make Listing Pictures
DAY 5 Make A Listing In Your Etsy Shop
The Goal For Today:
Add one item to your Etsy shop today.
Get the best keywords using a free tool
What you need for today:
Your Etsy shop opened
A product ready to add to Etsy
The zip file of your product or just upload the PDF
Product pictures you made on Canva
Looking Over What We Learned So Far
Ok, now you are ready to add your printable to your Etsy shop. Yay!
You created your printable and have it all zipped up and ready to upload. Or if you can just load the PDF. You've spent time getting your product pictures ready and they are all in your folder on your desktop. You also did the research to find the best keywords to use in your listing.
The Best Free Software To Help With Keywords
I have one more trick up my sleeve that will help you with your Etsy shop. It's a free/paid service that helps optimize your Etsy shop and find the best keywords to use in your listings. I've only used the free version when I first started my Etsy shop but quickly moved to the paid version and at the time of this writing, it's under $10 a month. Most other services that offer less are double that amount.
It's called eRank (Not an affiliate link).
I found out about eRank way back when I was selling handmade items, like back when Etsy first started, and it's even cooler now. You can use the free service and find great keywords to use in your listings. Just add in your Etsy account and it will then give you even more insight on things you can do to make your shop better. I love it! The free version was enough for me for a while, it gave me a lot of information about my shop.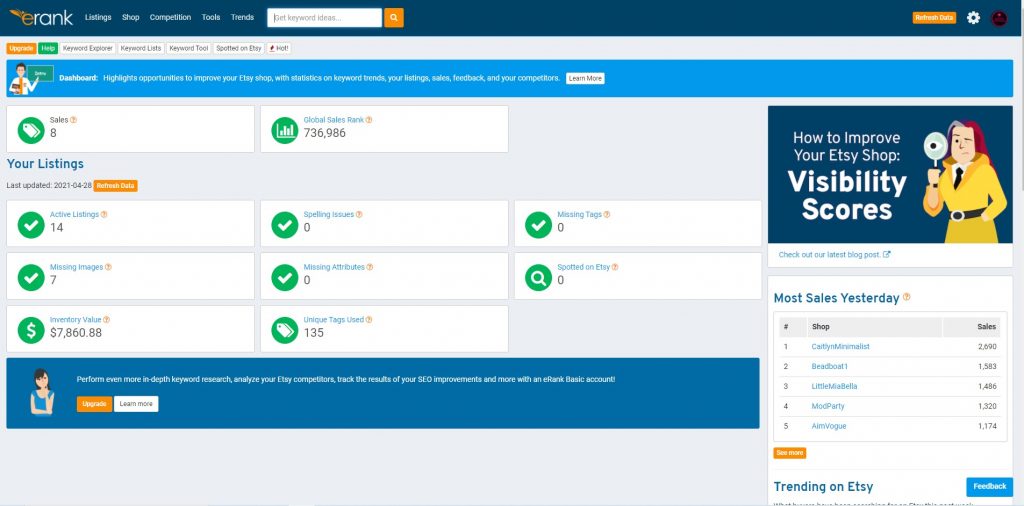 I love that it will show me if I have any spelling issues. We all know I could use that! Lol!
You'll really want to play around with this, I even see eBay trends on there! That's pretty cool. On the right side, I see who sold the most items yesterday this is in all categories. But also what's trending on Etsy and what holidays are coming up, that's really nice, even international holidays.
I spend a lot of time there, when you use the paid version you can see what your competition is selling each day, even what they are listing daily. So Cool! It will even show you all the keywords and tags they are using. That's very helpful! I love eRank and if you want to build up your shop, you'll love it too.
How to get the best keywords?
We're going to go into eRank and use the keyword tool and that's right there on the top. I'm typing in "CLEANING CHECKLIST". Here's what it looks like with the paid version.

You want to see the green long-tail keyword and low competition. They are all great keywords. I'll use Daily Cleaning Checklist for my listing and the others listed here.
How much to charge?
Don't give your printables away. Charge more and mark them down. This is a nice trick that everyone in sales will tell you. Price high but give them a sale. Just look at many of your retail shops are selling things. Look at Kohl's, they are always having coupons for things. The same goes for our Etsy shops. Have a sale going most of the time.
I do this with my eBay store. When my stuff's not on sale I don't sell anything. So price your planners from 7.99-10.99 and mark them down. Like 30-40% Play around to see when you sell the most. Also, have some 2 pagers, and mark them over $3.00. That way people can try out your planners and not have to invest a lot to check you out.
Let's Start Listing!
How to list a digital download product on Etsy? It's really simple. Click on the Shop dashboard, that's the little hut-looking thing on the top right side when looking at your Etsy shop.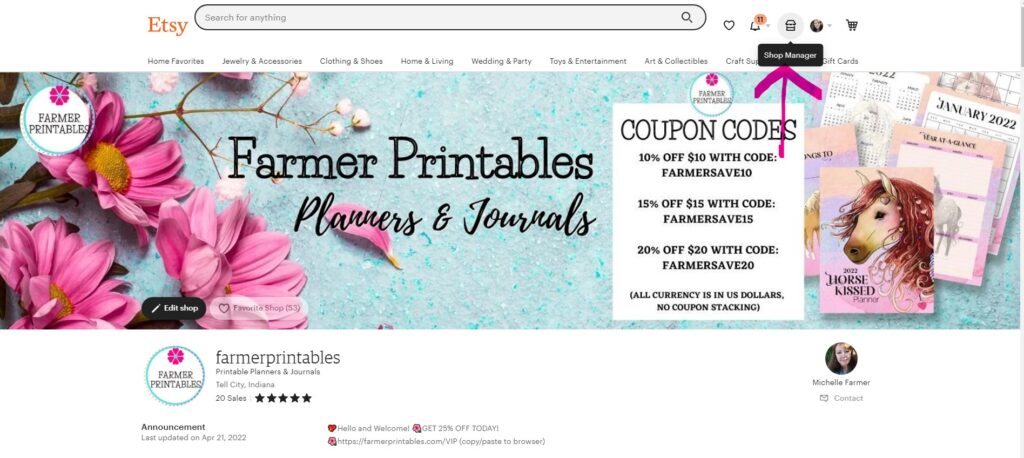 Once inside the dashboard of your shop. You'll want to go over to the left side of your shop under Shop Manager and click on Listing.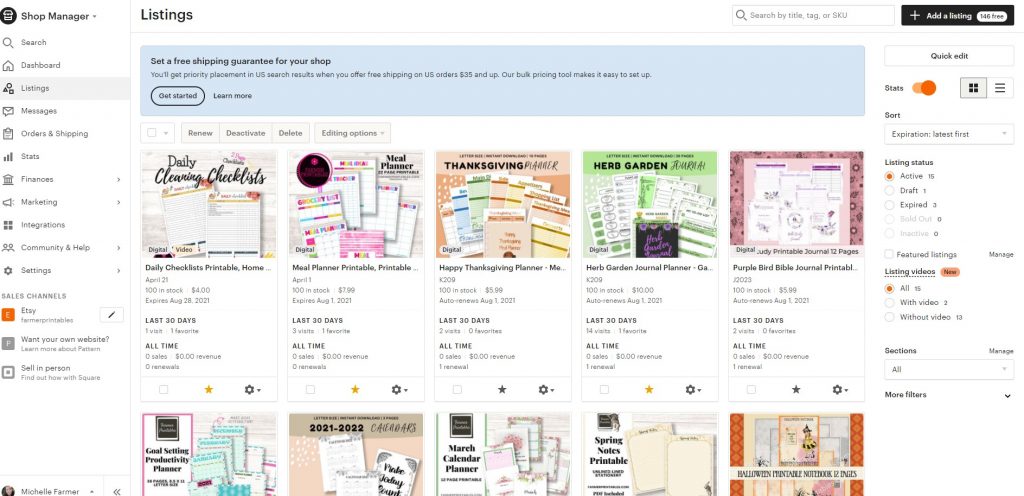 Now you probably won't see any listings yet if you just opened a shop, maybe the one fake listing you had to make when opening up your shop. You can edit that one or delete it and add a new listing. Click on the black button on the top right that says Add a listing. Or to save time hover over that flower-like thing at the bottom of my previous listing and a drop-down menu pops up.  Click on Copy.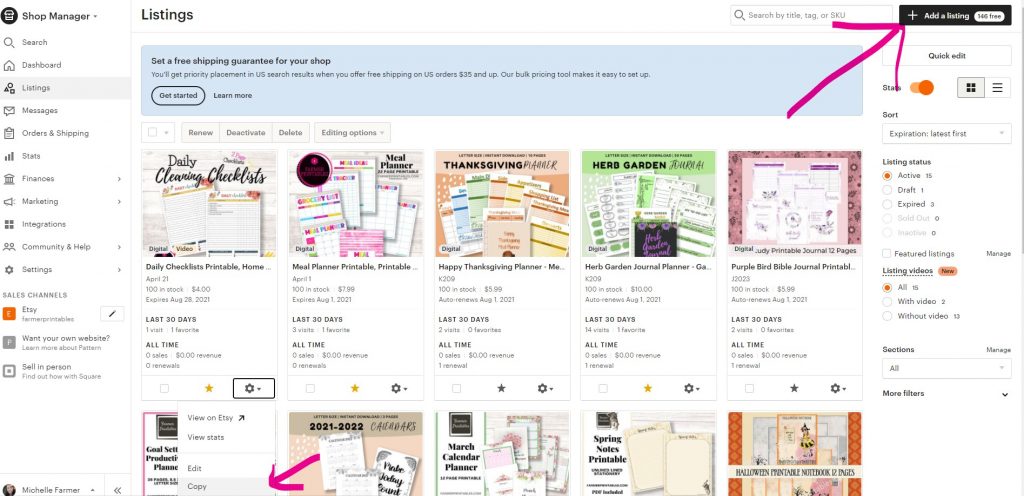 You will see your previous listing, make sure that it says Copy. You don't want to mess with your other listing. You are saving time listing your next product, by making a copy of your first listing and using it as a type of template. That way you won't have to type in all the same information over again. And your listings will look more consistent.
The first thing, you'll want to delete the pictures of the other product.
Now upload your new pictures for your next product. Mine will be the Weekly Checklists this time. I won't have to change much at all with this listing. And the pictures were a snap to change. See how you can quickly add more items to your shop if you plan ahead just a little bit.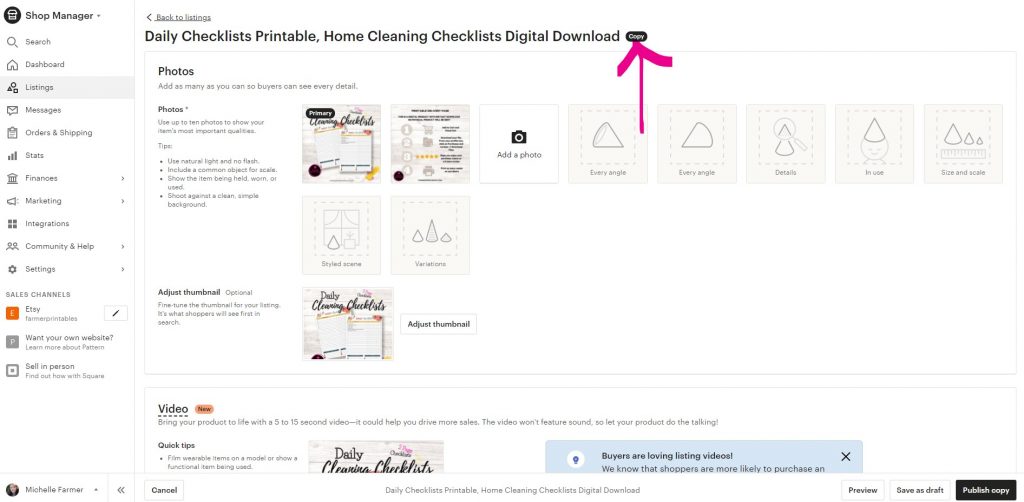 Now that you've switched out the old pictures with new ones. Next, slide down a bit to the next section of the listing and fill in the Listing details. You want to change the Title. I'm just changing the word Daily to Weekly.
I don't add anything else, I did add white. It's up to you, if your printables are for an occasion then add that to the drop-down menu in this section.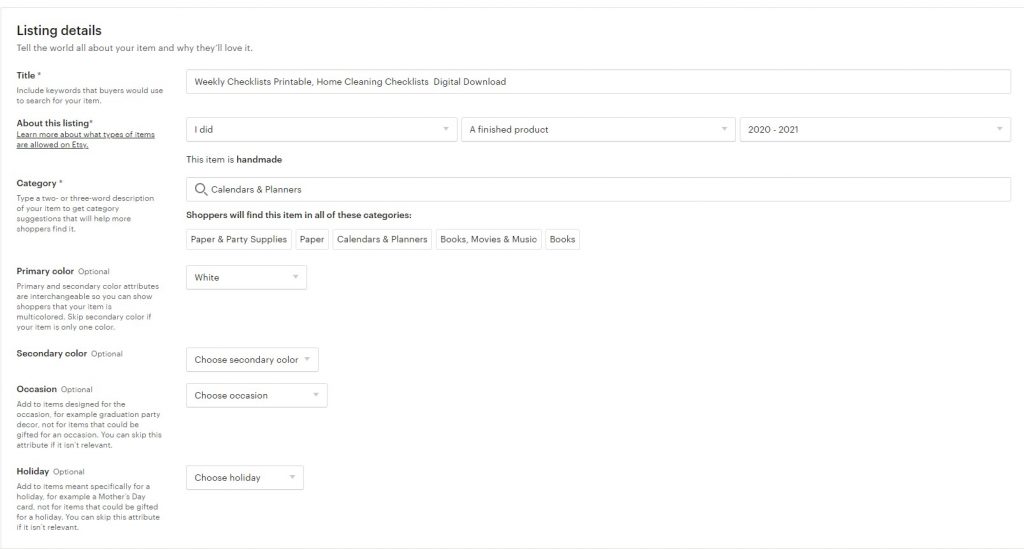 Slide down a little bit more and you'll see the Digital Download, make sure that is selected. I also click on the Manual relist or Automatic. But that's up to you as well. I've been making my Automatic so I don't have to worry about relisting them.
Then you'll want to add a description of what your printable is and what format the customer will get when they download it. This saves so many questions if you explain your product as much as possible.
The next part is where you will add your tags, you want to use all 13 tags. This helps Etsy know what your product is and helps people find your printable. I used the ones before but changed them to say Weekly. Having proper tags can really help you in getting traffic to your shop.
You will also put the price in here. Don't underprice your printables. Pricing is tricky, check around and see what your type of planner is selling at and adjust accordingly.
I added 100 in the quantities, you can pick any number, that's just what I put in there. The one thing I don't want is to have someone want to buy a printable and there won't be any available to purchase. So I said that I have at least 100 of them to be on the safe side.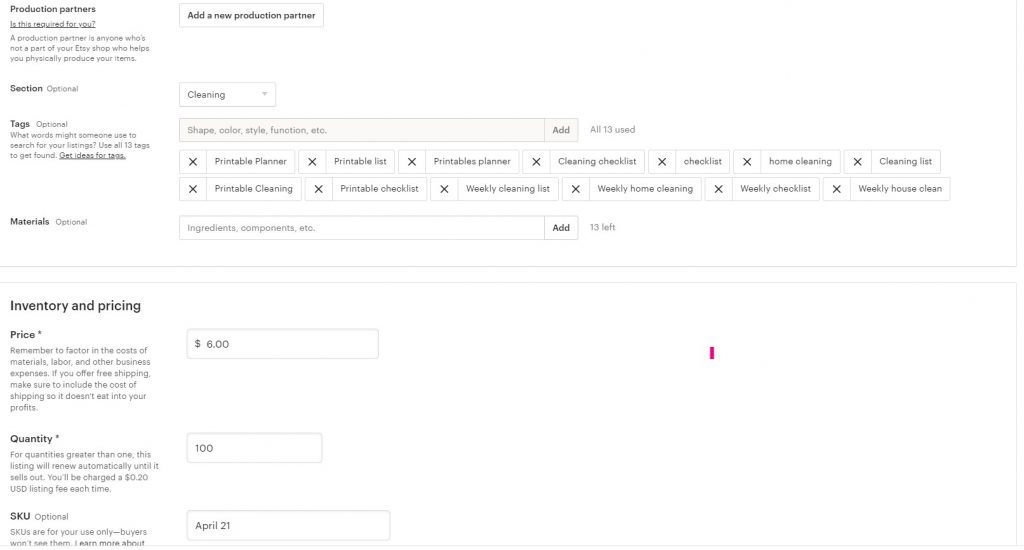 You'll now want to upload your zipped file or PDF file. I started adding a PDF file here and in that file is a link to my planner that I've saved over on Dropbox. I have really slow internet and that's what works for me.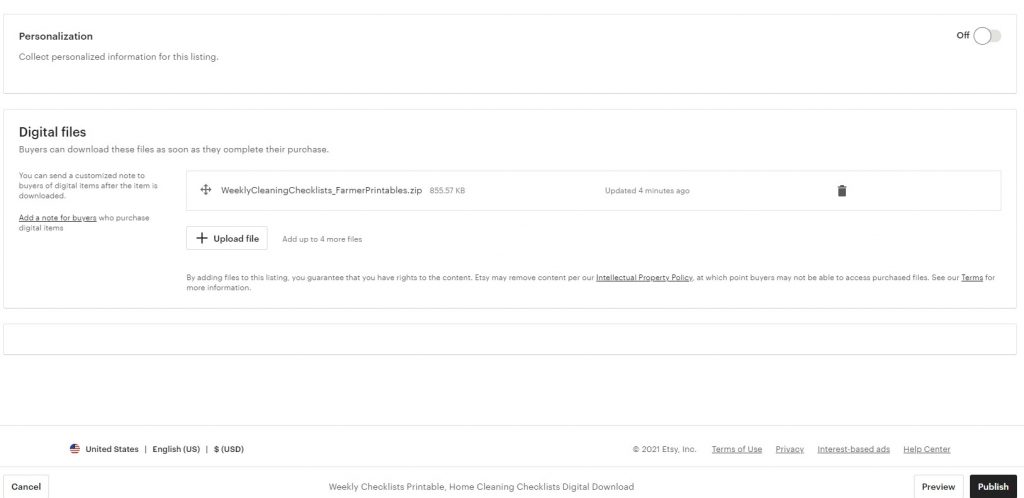 When that's finished uploading then you're done and you can hit Publish. This will take you back to your listings page and you can then click on View your Listing to make sure it looks alright. If not you can edit it right there, with no extra charge. You can edit it over and over again.
I like to click on the star so that it's featured at the top of my shop. You can only have 4 featured, that's all that will show up.
That's it! You did it, now add that second printable quickly as I did. And keep doing that each week. The more you add to your shop the more you'll sell.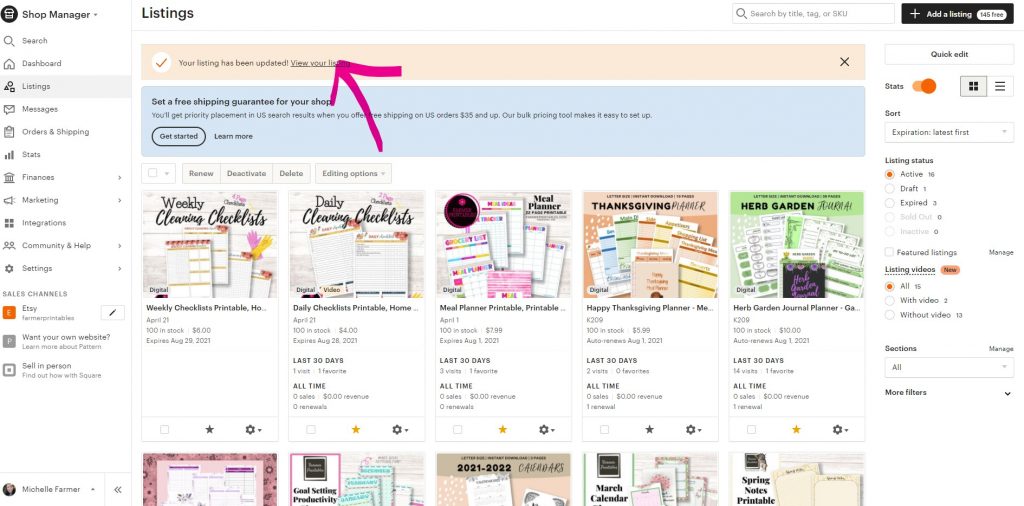 Remember what I told you before, I'll say it again. Etsy is like Google, it likes activity. When you are listing in your shop constantly, Etsy will show your shop love, but if you quit listing for a week or more. Then all that work you did previously is lost and you have to start over again.
List at least one new item in your shop a week, two would be even better. Do that every week. Once you have a bunch listing in your shop. You will have relisting going on every day automatically if you've selected that in your listings. That's what the full-time shops do, list daily. So go fill up your shop and I wish you much success!
We'll talk more about social media tomorrow. But for now, you want Etsy to love your shop and send traffic to it. And the only way to do that is to list constantly.
Homework:
Create Listing On Etsy
Download Your Workbook at the link below.
DAY 5_7 Day Quick Start Etsy Shop Challenge

💖Tomorrow I'll show you how to promote your listings.
If you have any questions you can email me at michelle@plrniche.com and I would be happy to help.
Wishing you much success!
Michelle
PS. Special Discount on my HOUSE CLEANING PLANNER TEMPLATE   I'm using in this challenge. Get 50% Off when you use the Coupon Code: CLEAN50