What to Wear Planner PLR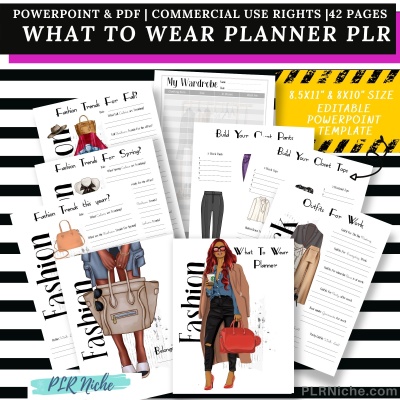 What To Wear Planner PLR
This What To Wear Planner PLR Template comes with 42 Pages it's a workbook style planner, that is 100% Unique made by Michelle of PLR Niche. The template is in two sizes, 8.5" x 11" & 8" x 10", 6 jpg Covers, Editable PowerPoint Files, PDF File, Font Files, Commercial Use Rights.
Here's what you get:
Cover
Belongs to
Fashion Trends This year
Fashion Trends For Spring
Fashion Trends For Summer
Fashion Trends For Fall
Fashion Trends For Winter
What's In Your Closet Insert
Mix and Match Work Outfits
Outfits For Work
Outfits For Home
Build Your Closet Insert
Build Your Closet Tops
Build Your Closet Pants
Build Your Closet Jackets
My Wardrobe List x3
My Accessories
Spring Clothes
Summer Clothes
Fall Clothes
Winter Clothes
Shoes
Purses
Vacation Outfits
Party Outfits
Costume Party
Partner's Closet
Child's Closet
School Clothes
Work Clothes Shopping List
Spring Shopping List
Summer Shopping List
Fall Shopping List
Winter Shopping List
Donate
Yard Sale x2
Notes x 3
PLR TERMS
YES Completed product can be sold or given away in PDF format or as a physical or POD product
YES Text and images can be edited/deleted
YES Can be altered to create new end products
YES Can be branded as your own
YES Completed product can be added as PDF to paid or free membership sites
YES Can be bundled with other products in PDF
NO Cannot be copyrighted
NO Cannot share the download page with others
NO Cannot pass on the PLR rights to others whether for sale, for free or in membership sites. You must sell or give away a completed product only. The PPTX files and PNG/JPG image files may not be passed on.
NO Cannot use PLRniche.com or Michelle Farmer name on the finished product
Note: You will receive instant access to the product in your PLR Niche account once you complete the shopping cart process. As this is an instantly downloadable digital product, sales are final and no refunds are offered.
Built on aMember Pro™ membership software