It's Friday! Do you have any plans for the weekend? I'm working on a few projects. Just a reminder my Family Reunion Planner ends July 31 tomorrow.
Family Reunion Planner
I made Family Reunion Planner and an Awards Template for the Family Reunion! I noticed when researching Family Reunions people were buying these printable Awards to give out during the event! What a fun idea? Not many people are making them but they are selling and getting rave reviews!
Here are the details.
1. Family Reunion Planner PLR
The Family Organizer will LOVE this planner! She will print this out and add it to her pretty binder. Then starting 6 months to a year out, she'll start planning, reaching out to relatives on all family sides, then booking the event and ordering what food she'll need to get after coordinating who will bring what on the day of the reunion. I've added a countdown to-do list that I'm sure she'll love too!
This planner is 26 pages with everything needed to put together a family reunion event. Comes in two sizes 8.5 x 11 and 8 x 10, along with a PDF, and the Editable PowerPoint files.
Comes With:
Cover
Event Date
Year At A Glance
Countdown To-Do List
Month Of The Reunion
Undated January-December Calendars
Shopping List
Who Is Bringing What
Contact Information
Invitation List
Brainstorm
Pre-Party Checklist
Budget Tracker
Dietary Requests
Notes
Sale Ends: July 31th.
25% Off the price of $27.00
Use coupon code: FAMILY25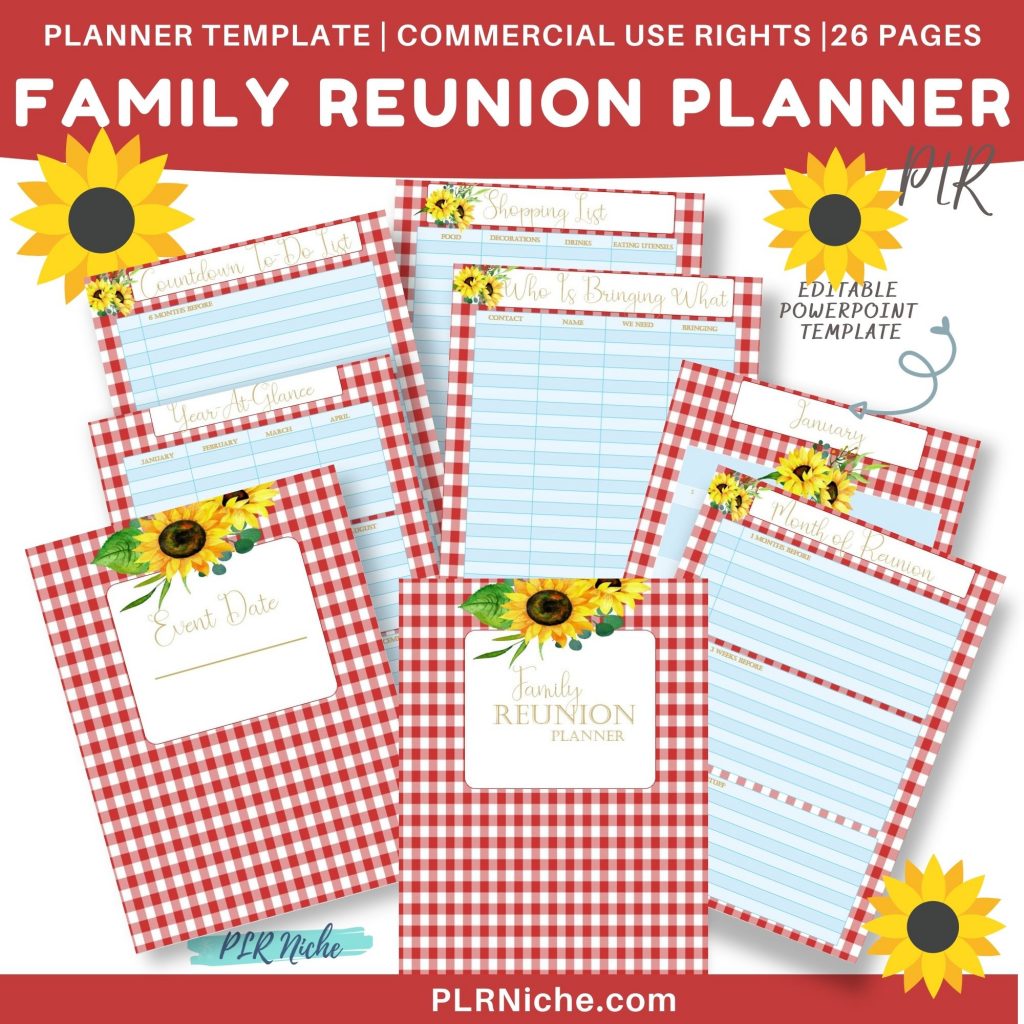 2. Awards Family Reunion Template PLR
The Family Organizer will LOVE this planner, she will have her clipboard with her and she will check off who will get each award during the Reunion and at the end of the day hand them out. Checking off her list if they got the award of if she will have to mail it to them.
This Awards Family Reunion PLR template has 26 Awards that are 5″ x 7″ size on 8.5 x 11 sheets. Total of 15 pages in Template. You'll get the PDF File, Font Files, and a Cover also with Commercial Use Rights.
Cover
Event Date
Award Notes
26 Awards:
Family Storyteller
Family Movie Star
Family Historian
Family Clown
Family Cook
Best Dessert
Best Casserole
Blank
Family Organizer
Grandma's Dumplings Award
Best Beard
Biggest Little Helper
Most Supportive
Best Motivator
Biggest Smile
Newlyweds
Married The Longest
Most Children
Newest Grandparents
Youngest Grandparents
Most Grandchildren
Oldest Family Member
Life Of The Party
First To Arrive
Best Hugs
Traveled The Farthest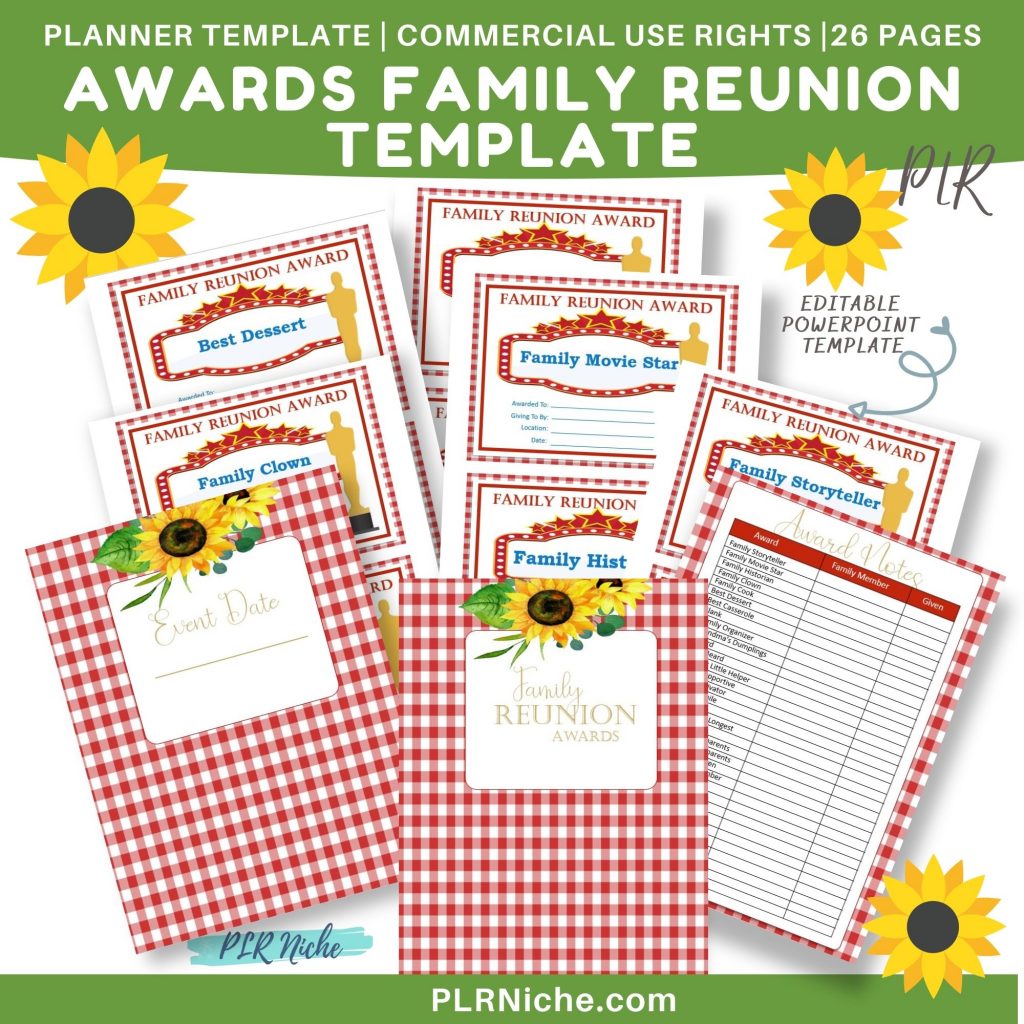 ~~~~~~~~~~~~~~~~~~

Blogging Biz Coloring Planner
Rayven from Color Monthly has a beautiful blogging planner great for the entrepreneurs out there. You'll get 27 unique pages in all!
Sale ends August 7, 2021
Only $27! when you Use Coupon Code BLOGBIZ
~~~~~~~~~~~~~~~~
New! Academic Planner
Jan from Simple Happiness has a new School planner called Academic Planner. This cute planner is perfect to add to your shop this week. As classes will be starting soon, time to get those planners listed!
The planner comes with both Powerpoint source files and CANVA templates as well as PDFs in US Letter and A4 sizes.
Get this planner for only  $12.95 with  COUPON CODE: SCHOOLDEAL (normally $27)
Sale ends August 17th
Get The Academic Planner PLR Here!
~~~~~~~~~~~~~~~~
Beauty Planner
My friend, Becky, at PLR Beach has an exciting new PLR planner out now! This super cute beauty planner has everything your customer needs to keep up their looks. You get 35 pages in all with a 12-month calendar, Daily Beauty Routine, Products to Try, and more! This is also great for your Beauty Influencer customers on Instagram and YouTube. There are 8.5 x 11 and 8 x 10 sizes in color and black and white. Beauty planners are selling like hotcakes on Etsy. Get in on the super popular beauty niche today with this planner!
Coupon: Use code GORGEOUS to save $10 off July 27th at 8 am CST through Monday, August 2nd at midnight CST!
~~~~~~~~~~~~~~~~~
Wishing you a wonderful weekend!